What is Fantasy Cricket? | How to play Fantasy Cricket?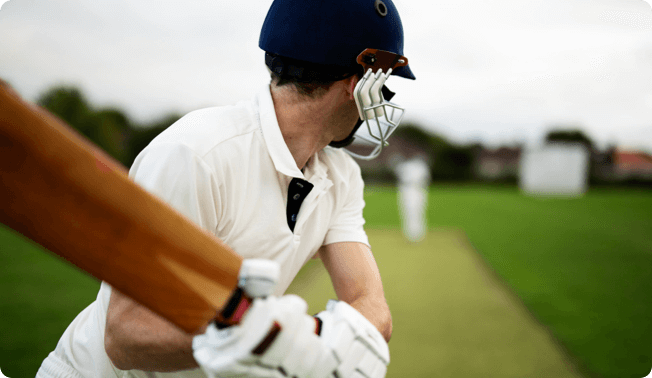 Fantasy Cricket is a game where you create your own team of cricketers from the pool of players available. You can then compete against other teams made by other players in order to win prizes. You have a budget that you use to buy your players and then earn points based on their performance in real matches.
Throughout the years, many Fantasy platforms have emerged on the internet—including Dream11, FanFight, Gamezy, and others. On these sites, you can choose to play in regular cricket formats such as T-20s, ODIS & Tests across various domestic leagues, international tournaments, and ICC matches. Read our Blog to know more about the Top Fantasy Cricket Apps of 2023.
Fantasy sports are a great way to engage with cricket. It's fun, and exciting, and gives you a chance to be part of the game while you're watching it. There are a lot of fantasy cricket leagues out there, but they can be confusing and diff
Building a cricket fantasy team isn't just about luck—it requires amazing scientific and prescient capacities. A decent comprehension of the sport and doing some research will help you gather essential information that can give you an edge over other players. If you're new to fantasy cricket, then here are some tips that will help you understand how to get started with Fantasy cricket.
To play Fantasy Cricket, you need to download a Fantasy sports app and then install it. There are several apps available for both Android and iPhone operating systems; just be sure that the one you choose is legal in your country or region.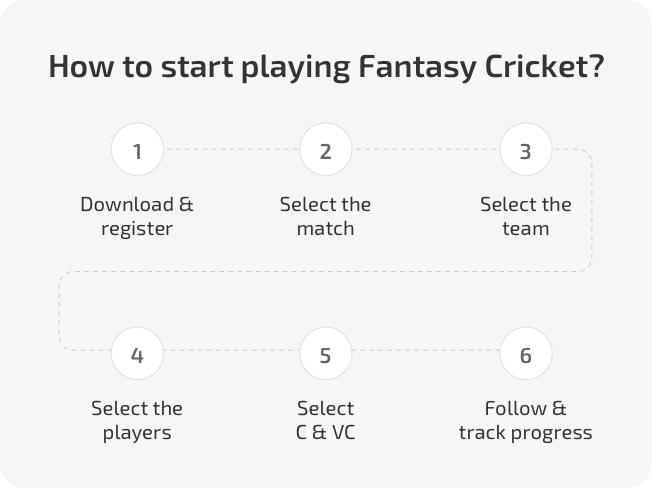 1. Download and Register
The first thing you need to do is register on the site or the app on which you are going to play Fantasy Cricket. You will have to enter your email ID and password, as well as fill in some personal details like your name, country, and mobile number. Once you're registered, you are ready to play fantasy cricket.
2. Choose your match
The second thing you need to do is to select a match you would like to play based on your favorite team or player. When selecting a match to play, it is best to choose matches in which you have a good amount of knowledge about the teams, players' performances, and pitch conditions.
3. Pick your Team
Once you have selected the match, it's time to create your team by selecting 11 players from a pool of 22 players. You begin by picking your wicket keeper, followed by at least 3 batsmen. Next, come 2 or more all-rounders and then a combination of bowlers to complete the lineup.
You must pick a fantasy cricket team that stays within the 100-credit budget. If any player you've selected is not in the starting lineup and therefore does not play (misses the match due to injury or suspension), then no points will accrue on those picks.
4. Select your Captain & Vice-captain
Once you have selected the players who will make up your playing11, it is important that you choose a captain and vice-captain wisely, as they will give you 2x and 1.5x points respectively. So make sure to select one who can score well and give you more points.
5. Enter a contest
There are a lot of contests available with different spots and fees. Make sure that the league you pick is right for you before joining it. If this is your first time playing fantasy cricket, then we recommend joining one of the free leagues so that you can have some fun without spending money.
Want to know the chances of your teams making it to the winning zone without paying any contest fees? Try PerfectLineup's Contest Simulator feature that actually helps you know how much you may have won or lost by entering those teams in the contest.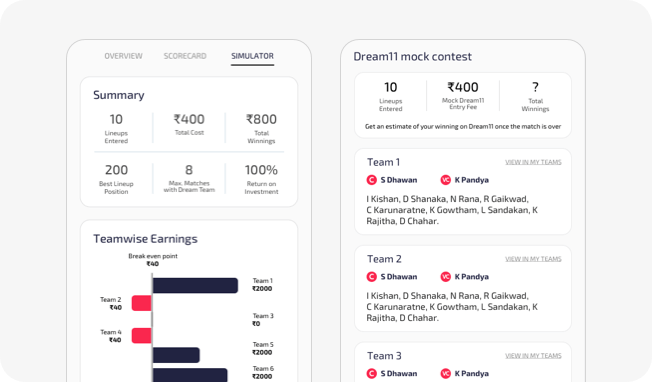 6. Follow and Track your progress
After entering your teams in the contest, relax and sit back. As the game progresses, your fantasy team will earn points. You can keep track of your ranking and compare it to other players during play.
There are a number of fantasy cricket leagues available online. These sites let you sign up, create your team, and then compete against other players in the league to see who can win the most points. Fantasy cricket is an excellent way to learn more about the game while having fun.