How to make a unique team in Dream11 for good winnings?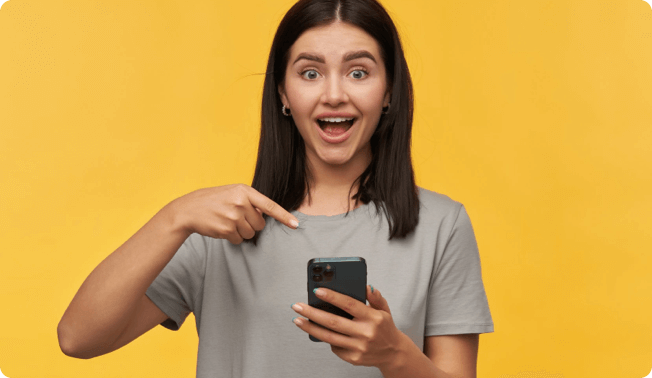 The importance of building a unique Dream11 team cannot be overstated. It is one of the most critical factors that can help you win your fantasy league. The basic idea is to build a team that will not be easily picked by other users and will give you an advantage over them.
There are many ways to build a team, and everyone has their own style. However, there are some basic principles that you should follow if you want your team to be successful.
1. Analyze the playing conditions: Before selecting your team, it's important to consider the playing conditions, such as the pitch, weather, and venue. This will help you choose players who are well-suited to the conditions and are more likely to perform well.
PerfectLineup's Venue & Pitch Report helps you understand the predicted dominance of batsmen, bowlers, all-rounders & wicket-keepers on the field. It helps you choose players as per the pitch conditions.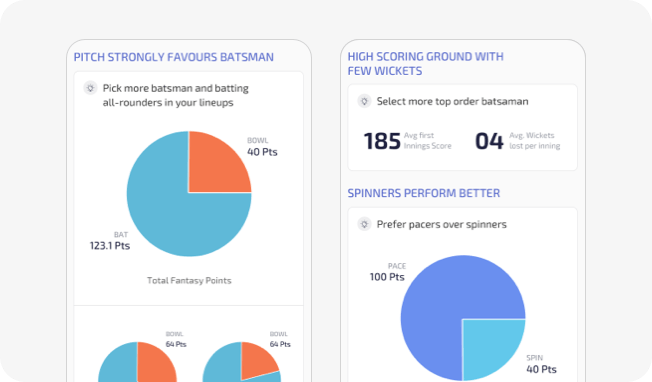 2. Choose players who are in good form: Look for players who are currently in good form and are likely to score well. You can use past performance data and current forms to make this decision.
With PerfectLineup's advanced player cards, users get best-in-class player stats differentiated in terms of player form, game format, competition, and the latest player updates to boost your research which help you pick the finest.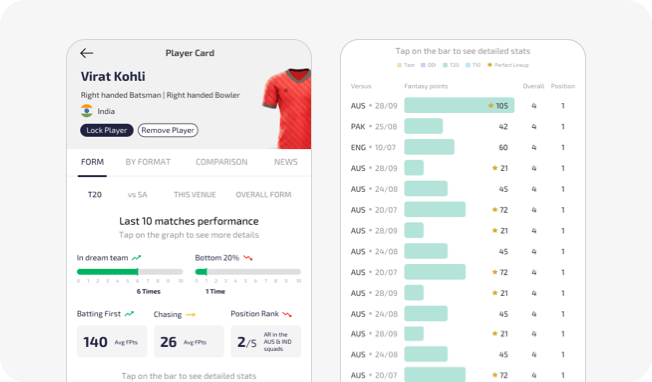 3. Don't just focus on star players: While star players are always a good choice, don't overlook underrated or lesser-known players. These players can sometimes be a good value pick and end up performing just as well as the more expensive star players. We have explained their importance in our earlier blog on How to win Dream11 Grand League?, in which we have mentioned the Top Winning Strategies for Dream11 Grand League.
4. Consider the balance of your team: It's essential to have a balanced team with players from different categories, such as batsmen, bowlers, and all-rounders. This will give you more flexibility and a better chance of success.
5. Make use of player credits: Each player is given a certain number of credits based on their skill and past performance. Make sure to use your credits wisely and choose players who offer good value for their price.
6. Keep an eye on team news: Stay up to date with team news and any changes to the playing lineups. This will help you make informed decisions about which players to choose.
I hope these tips help you create a unique and successful team in Dream11. Good luck!