Top Tips for scoring high in Dream11 Grand Leagues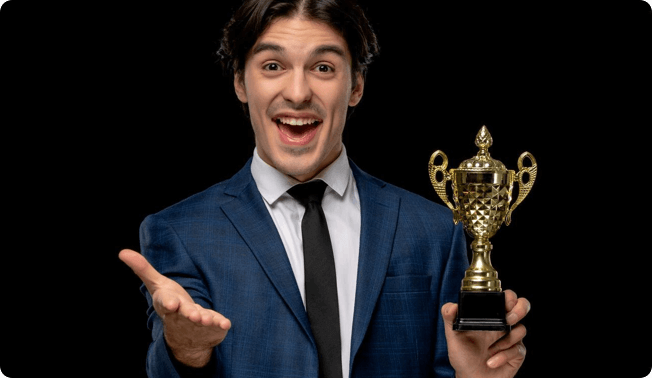 Dream11 Grand League is a type of fantasy football league on the Dream11 platform where players compete against each other for larger cash prizes. Additionally, Grand Leagues typically have a lower entry fee than other leagues, making the competition even tougher. This means that there are more players competing for the top prizes, some of whom are often more experienced and skilled, making it harder for new players to win. However, if you are a novice and are looking for tips to score high in dream11 grand league, then you have come to the right place!
To win in a Grand League, players need to have a deep understanding of the game, including players statistics, strengths, and weaknesses. They also need to have good knowledge of the rules and scoring system of the league. In this blog, we are providing some great Dream11 Grand League tips and predictions which will help you in scoring high in Dream11 grand league.
Research is your only way to the Top!
Before making your team, research the players and teams that will be playing. Look at their past performances, current form, and any injuries or suspensions that may affect their interpretation. In our Dream11 Grand League tips, the first tip for you is to make sure to thoroughly research and analyze player statistics, form, and recent performances. This will give you a better idea of which players to select for your team.
A well-rounded team is All you need!
Our second Dream11 Grand League tips includes having well-rounded teams. This means that you don't have to just pick star players, make sure you have a balance of players from different teams and different positions. Don't just go for the players with a high selection percentage or players whom a lot of users are selecting. To win a Grand League in Dream11, your team must be unique. To know more about how to make a unique team in Dream11, read our blog here.
An expert's advice will make you win Thrice!
The best Dream11 Grand League predictions will be the ones where the expert's advice must be taken into consideration. While making your Dream11 Grand League team, you must look for advice and tips from experts in the field, such as analysts or successful Dream11 players. For this, you can watch some videos on YouTube. This will help you get an idea of the match and the players. Again, don't just blindly follow the teams given by these experts or join any paid telegram groups. Always remember that there are millions of other users too who are watching that same video and are making that team, which means your chances of winning are very less.
An eye on the team will help you Win!
Staying up to date on any changes or updates to the teams that may influence the players' performances, such as injuries or lineup changes, will help you get an edge over other players. Our Dream11 Grand League contest tips include keeping track of any team news, such as injuries or suspensions, as this can greatly impact a player's performance and ultimately your chances of winning. So Always remember to stay up to date with the latest information and to make informed decisions when building your team.
To stand out in the crowd, stay away from the crowd!
Our best Dream11 Grand League contest tips for you is to pick such matches in which a very less number of people are joining. These include local leagues or domestic matches which comprise local players. For example:
By selecting Local Leagues you have a good chance to win GL as in these leagues as many people don't have great knowledge about these leagues, so there will be less competition, and you have more probability to Win. The only problem is the data and information related to these local matches, teams, players, venues, and pitches. For this, you can go to the best Dream11 Grand League predictions website or app PerfectLineup, where you get all the details related to any match whether it is an International, T10, Domestic, or Test match.
Your C & VC decide whether you will Win or Lose, so select wisely!
As you also know that captain and vice-captain earn you 2x and 1.5x points respectively, therefore, it's important to select players who are most likely to score well. Our Dream11 Grand League tips will be to choose players who have a high chance of performing well by watching the stats and form of players. Either, you can go with a safe player who is in form and performing well in the series with a high selection percentage, or you can take a risk on your C & VC by picking players with low selection but can have chances of performing well in the match.
In PerfectLineup, you get the Top suggestions for your Captain and Vice-captain picks after analyzing various matrices for a particular match.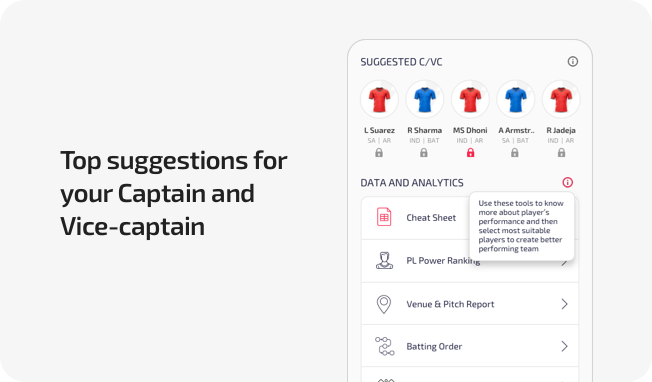 Where there is Risk, There is a Win!
Taking calculative risks will in fact help you climb the leaderboard to reach the top positions. So, as per our best Dream11 Grand League predictions, don't be afraid to take a chance on a lesser-known player who has the potential to perform well. These players are often called Trump Players, who can win the match single-handedly on their day. Now the main question is How to find these Trump Players? Don't Worry! We have done the hard work for you in PerfectLineup.
You can easily find these kinds of players who are least selected but have high potential and can win the match for you on their day in PerfectLineup Cheat Sheet's Player with X Factor section.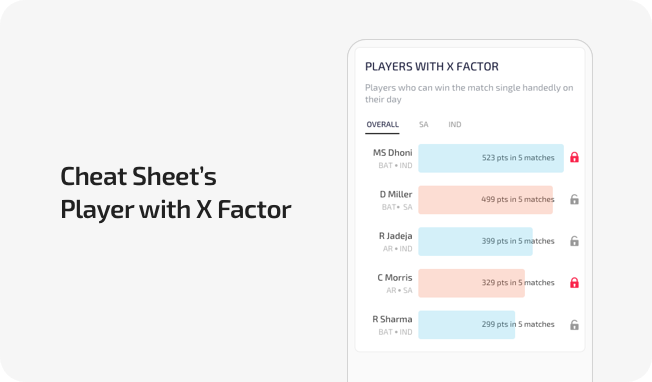 The More Teams, The More Chances to Win!
Our next Dream11 Grand League contest tips for you is to create multiple teams. Creating multiple teams with different combinations of players will increase your chances of having at least one team that performs well, so you should create multiple teams to increase your chances of winning. If you create at least 6 teams in dream11, your chances to get to rank 1 increase thoroughly. It is quite difficult to secure a good rank if you just go with 1 team.
Being Picky is not that Bad, but only when selecting the Players!
Being selective while choosing your playing11 for the match will assist you to pick the most perfect combinations which will ultimately help you in scoring high in Dream11 Grand Leagues. As per our Dream11 Grand League predictions, while selecting your players, you must make sure to balance your team with a mix of reliable, consistent performers and undervalued players who have the potential to perform well.
By following these tips, you will increase your chances of scoring high in Dream11 Grand Leagues. Although Dream11 Grand League is a game of skill, winning requires persistence, patience, and a lot of practice. So keep playing and learning from your mistakes, and you will surely improve your chances of winning!