How do people earn in fantasy cricket leagues?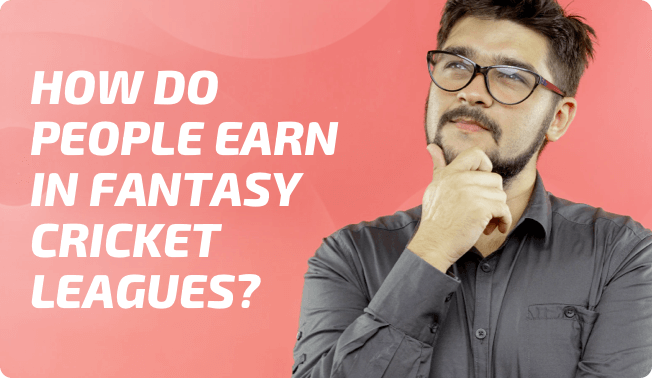 Fantasy cricket has grown enormously in recent years, attracting millions of cricket fans from all over the world. It provides a unique and exciting opportunity for fans to interact with the game and show their knowledge and talents by forming teams online. Fantasy cricket leagues are online platforms where players can build online squads made up of real-life cricket stars. Participants gain points and their rankings are established based on their performance in actual cricket matches. We will go through some essential fantasy cricket tips that will help you design winning teams and allow users to participate in paid leagues and have the opportunity to win real money.
Understanding Fantasy Cricket Leagues
Fantasy cricket leagues operate on the principle of skill-based gaming, where participants use their knowledge, analysis, and intuition to strategize and create winning teams. The performance of selected players in real matches directly impacts the points earned by participants in their fantasy teams. The PerfectLineup app will provide you with accurate predictions to help you make smart selections. Use this easy and powerful tool to improve your gaming experience. Begin winning large money right now by leveraging the power of accurate predictions. Visit another blog to learn more about Fantasy League Tips 2023 | Points Distribution, Tricks & More Details. Don't waste time; instead, use the PerfectLineup app and effortlessly assemble your winning team.
Selecting and Building Your Team
To increase your chances of winning in fantasy cricket leagues, build a well-balanced team with players from various positions. Analysing player data, recent form, pitch conditions, and teamwork can assist you in making smart team selection decisions. Participants can make smart selections while selecting their fantasy squad by considering these aspects such as player injuries, team composition, and batting or bowling order. Build your own team with PerfectLineup's Custom Team Builder tool by selecting your favorite players and getting ideas for seamless lineups. You can improve your chances of winning by using our simple and advanced lineup generator. Here you will find analytical suggested teams that have been designed specifically for Grand and Small leagues.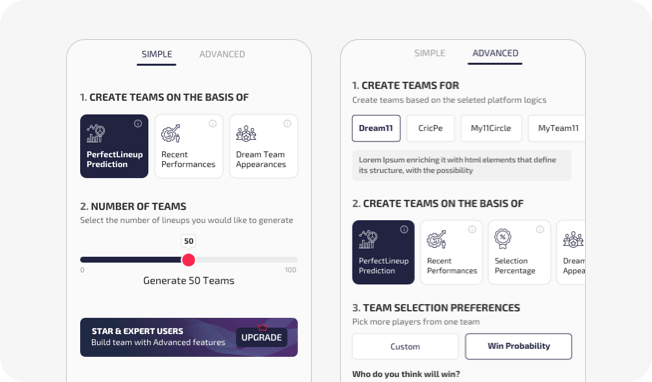 Participating in Paid Leagues
Participating in paid leagues is one method people earn money in fantasy cricket leagues. These leagues normally have an admission fee, and the prize money is divided among the top performers. The amount of money one can earn is determined by the entry cost of the league, the number of participants, and the reward structure. To maximize your chances of success in fantasy cricket, consider Perfectlineup essential fantasy cricket tips to earn real money.
Skill-Based Approaches
Creating efficient strategies is essential for success in fantasy cricket leagues. Experienced players analyze player line-ups, pitch conditions, weather forecasts, and other elements to make strategic judgments. Fantasy cricket tips that incorporate up-to-date team news and identify undervalued players can offer you a significant advantage over the competition. By staying informed about player performances, injuries, and match conditions, you can make well-informed decisions when selecting your fantasy cricket team.
Daily Challenges and Contests
In addition to regular cricket matches, fantasy cricket platforms frequently host daily challenges and contests. These shorter-duration contests provide an opportunity to earn quick rewards by competing against a smaller pool of participants. They are a great way to enhance your earnings on a daily basis. To win in these daily fantasy cricket challenges, it is important to read fantasy cricket tips.
Promoting Fantasy Cricket Platforms
Some fantasy cricket platforms have referral or affiliate programs that allow participants to earn money by promoting the platform to others. By sharing their referral links or codes, individuals can earn a commission or bonus when new users sign up or participate in paid leagues on the platform. PerfectLineup has an exciting Refer and Earn program, where you can earn money simply by inviting your friends to join the platform by using your referral code and get Rs.70 on their subscription.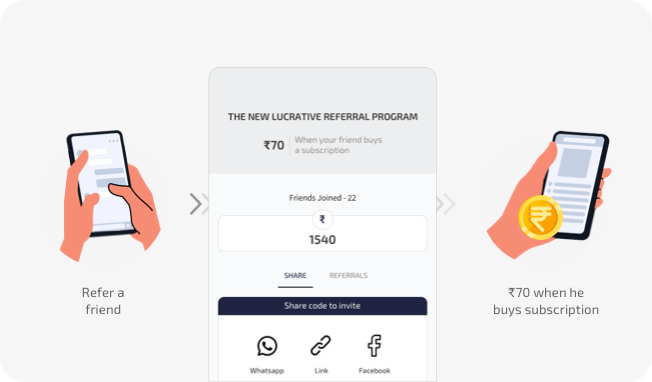 Daily and Season-Long Leagues
Fantasy cricket platforms offer both daily and season-long leagues. Daily leagues are shorter and provide quick earning opportunities, whereas season-long leagues require sustained performance over an entire cricket season. Engaging in both formats allows you to diversify your earning potential. When participating in fantasy cricket, it's essential to keep fantasy cricket tips in mind to maximize your chances of success. By applying these fantasy cricket tips, you can make more informed decisions and improve your performance in both daily and season-long leagues.
Conclusion
Fantasy cricket leagues offer a thrilling combination of entertainment and earning potential for cricket enthusiasts. By participating in paid leagues, selecting the right players, analyzing match conditions, managing the fantasy team effectively, and exploring additional earning avenues, individuals can maximize their chances of earning in fantasy cricket. By following perfectlineup's fantasy cricket tips, you may boost your chances of success and fully experience the excitement of fantasy cricket. PerfectLineup, the greatest Fantasy Cricket team Generator, allows you to create the ideal fantasy cricket team. Get expert advice and adjust your lineup to score the most points. With our advanced lineup generator, you can dominate your league. Try it right now!