How to make teams for T10 leagues?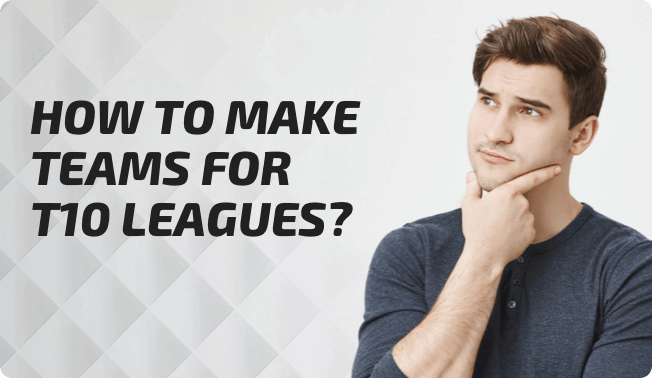 Fantasy cricket has enhanced how fans interact with the game by allowing them to create their dream teams and compete against others based on real-life player performances. Fantasy cricket has become immensely popular, especially with the rise of T10 leagues everywhere.
One of the most exciting formats in fantasy cricket is the T10 league, known for its fast-paced action and explosive batting. To succeed in fantasy cricket and build successful teams, while selecting players. It is necessary to adopt an organized strategy and consider different factors. In this blog, we will discuss some valuable fantasy cricket tips to help you build winning teams for T10 leagues and maximize your chances of success in fantasy cricket.
Base structure
Understanding the T10 cricket format and its basic structure is vital before dividing into team selection. T10 matches are much shorter than typical cricket formats, with each team playing only 10 overs. This implies that players must score quickly and regularly to maximize their fantasy cricket points. Analyzing previous T10 league performances, player statistics, and pitch conditions will help you gain insights into the playing style and form of players, enabling you to make informed decisions. In T10 leagues, if you notice the dream team of these matches, you will find 1-3-4-3 or 1-3-3-4 as a basic structure in most of the teams. This means 1 Wicket keeper, 3 Batsmen, 4 All rounders and 3 Bowlers or 1 Wicket keeper, 3 Batsmen, 3 All rounders and 4 Bowlers.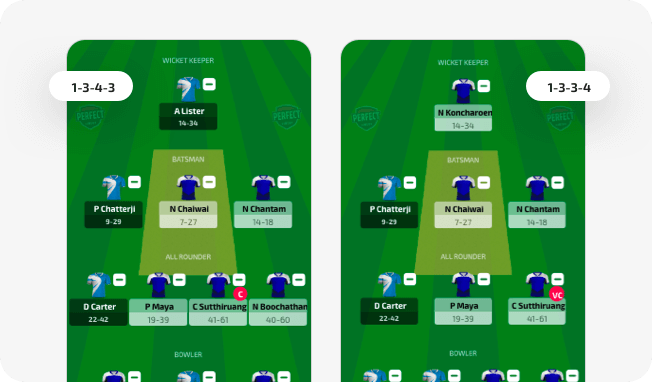 1. Download and Register
You should follow this structure to maximize your fantasy cricket points. PerfectLineup's Advanced Lineup Builder allows you to pick your own fixture or combination while making teams. You just need to set the fixture you want and generate up to 100 teams using its smart algorithm.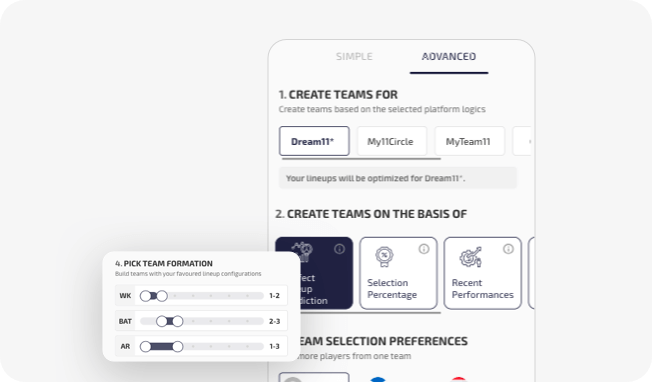 Player Selection
Choosing the right players is the foundation of a successful team. Here are some factors to consider:
a. Power Hitters: T10 leagues necessitate powerful batting. Look for players that can consistently hit boundaries and easily clear hurdles. Batsmen who are energetic and have a variety of shots are excellent assets.
b. Versatile All-rounders: Players who can contribute with both bat and ball provide great flexibility. Seek all-rounders who can score quick runs, pick up wickets, and offer strategic options during crucial moments.
c. Skilful Bowlers: Effective bowling in T10 matches is essential to restrict opponents' scoring. Look for bowlers with variations, accuracy, and the ability to execute under pressure.
In perfectlineup Player Card, you can find all the relevant details about a player. you have the option to select players by marking them as "Lock" or "Prefer" for your team. This enables you to give players a higher priority and express your preference for them. On the other hand, if there are any players you don't want on the team, you can exclude them.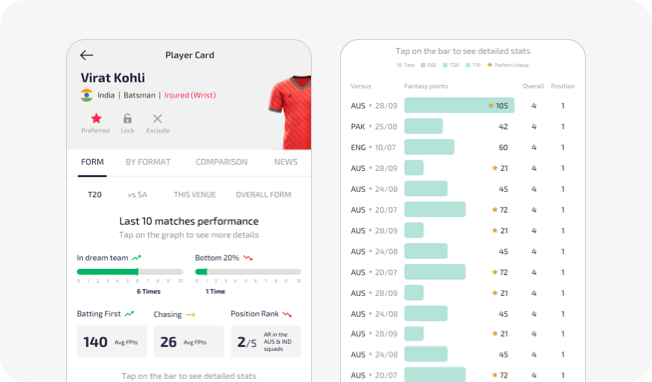 Balance the Team:
Maintain a balance between star players and those who consistently deliver. While huge names might gain you a lot of points, it's also crucial to have reliable players who don't steal the spotlight but continuously contribute through consistent performances. Fantasy cricket tips are important to keep in mind while assembling your team to balance star power with reliable players.
Assess Pitch Conditions:
Pitch conditions play a vital role in T10 matches. Analyze whether the pitch is batting-friendly or supportive of the bowlers. Consider factors such as pitch behavior, weather conditions, and team batting first or second. This analysis will help you choose the right combination of batsmen, bowlers, and all-rounders for your team.
PerfectLineup's Venue & Pitch Report provides insight into the expected dominance of batsmen, bowlers, all-rounders, and wicket-keepers on the pitch. In perfectLineup you will see the pitch condition and details of the match.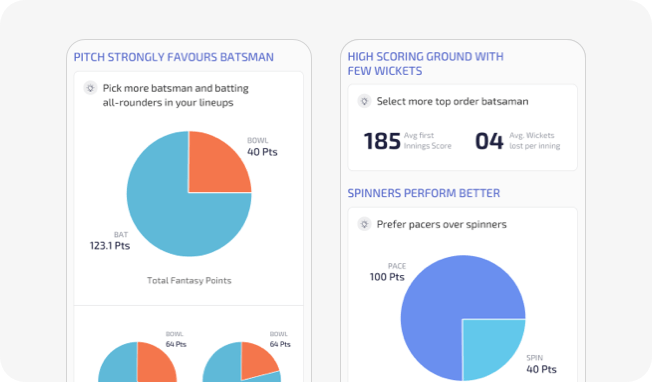 Consider the following match-ups:
Keep an eye on the fixtures and the teams that are playing each other. Analyze both teams' strengths and limitations, and find players who can exploit the opposition's shortcomings. Match-ups can provide useful information about potential performance and assist you in making technical decisions.
With PerfectLineup's Player Battle, you can observe how the bowlers or batsmen performed against the players from another side. This tool enables you to analyze match-ups between the top bowlers and batters. Based on their prior results, you can compare bowlers and batsmen performance of different teams to figure out who is better.
Stay Updated with Team News:
Player injuries, changes in the playing XI, and team strategies can significantly impact fantasy cricket. Stay updated with the latest team news and injury reports to ensure your team is optimized for each match. Being aware of such developments will enable you to make timely changes and maximize your team's potential.
Conclusion
Creating a winning team for T10 leagues in fantasy cricket requires a combination of research, analysis, and strategic decision-making. By understanding the format, analyzing player performance, considering pitch conditions, and applying these fantasy cricket tips, you can increase your chances of success and enjoy the excitement of fantasy cricket to the fullest. Create the ideal fantasy cricket team with PerfectLineup, the greatest Fantasy Cricket team Generator. Get expert assistance and optimize your Lineup to score the most points. You will be able to dominate your T10 league with our smart Lineup generator.
What is the duration of a T10 match?
A T10 match usually lasts about 90 minutes.
Can international players participate in T10 leagues?
Yes, international players can participate in T10 leagues, as these leagues are open to players from around the world and often attract a diverse range of talent.
How many players are allowed in a T10 team?
A T10 team typically consists of 11 players, similar to the traditional format of cricket. Each team has 11 players on the field at any given time, including batsmen, bowlers, and fielders.
What are the criteria for player retention and release in T10 teams?
The criteria for player retention and release in T10 teams may vary depending on the league or tournament rules, but common factors include performance, fitness, form, and team strategy. Teams often evaluate player statistics, skills, and overall contribution to determine whether to retain or release players for the next season.
How do T10 leagues contribute to the development of cricket globally?
T10 leagues help cricket grow internationally by introducing the sport to new markets, drawing new spectators, and giving players from other nations the chance to show off their abilities and get recognition abroad.